User:Evilscientist
From CityDeepSky
About me
General Info
My name is Jason Nishiyama. I work as a secondary school teacher with the Calgary Board of Education where I currently work with teens who have addiction issues. I am also a sessional instructor in astronomy at the University of Lethbridge's Calgary campus. I live in Calgary, Alberta, Canada with my wife, son and cat. I am also the observatory director for the Calgary Centre of the RASC's Wilson Coulee Observatory (WCO).
Observing Experience
I have been an amateur astronomer since I was a child. I received my first telescope as a gift when I was 12 (a 60mm refractor). Since then I have done a lot of work in the radio spectrum but have also done optical observing using first the 12.5" Newtonian then it's replacement C14 at the WCO. Since my purchase of a small 5" Maksutov telescope in July of 2007, I've been working on an RASC Messier certificate by slowly photographing all 110 Messier objects.
Equipment used for the City Deepsky Project
Binocular
I started out with some 10x50 Bushnell binoculars I picked up at Costco years ago. Since the summer of 2008 I've started using some Celestron 10x50 binoculars as they have a better focusing mechanism.
Telescope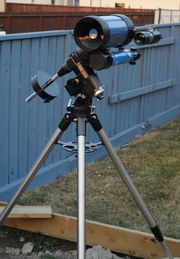 The telescope I am using for this project is a Skywatcher Mak127 (5" Maksutov) mounted on an Eq-5 equatorial mount. For this telescope I started with a 6x30 finder scope but found this inadequate in a city environment and have since upgraded the finder to a 9x50. The Mak127 is co-mounted with my old 60mm refractor which has been modified to accept standard eyepieces.
Observing Location
My observing location for this project is my back yard. I initially simply placed the telescope and it's tripod on the ground but found that hard to level. I then placed three small blocks in the ground to facilitate quicker setup and leveling. During the summer of 2008 I started work on a small backyard observatory. At this point I have concrete piles set up so that I can quickly set up my tripod on them. A deck has been constructed and a pier installed so set up is quick!
Geographically the location is in the community of Marlborough Park in NE Calgary, Alberta, Canada. My house limits my southern view to about -20 degrees declination, but it also blocks out the streetlight on the street.
My Observing List
A list of what objects I have left to observe from my location is here.