CityDeepSky:Current events
From CityDeepSky
(Difference between revisions)
Line 1:
Line 1:
−

Sky happenings for the month of December 2015

+

Sky happenings for the month of

 
 
 

Note all [[Time and number conventions|times]] and dates in UTC unless otherwise specified.

 

Note all [[Time and number conventions|times]] and dates in UTC unless otherwise specified.

Line 7:
Line 7:
 

!Phase!!Date (UTC)!!Time (UTC)

 

!Phase!!Date (UTC)!!Time (UTC)

 

|-

 

|-

−

|Last Quarter || 03 December 2015 || 07:40

+

|Last Quarter || 2015 || :

 

|-

 

|-

−

|New || 11 December 2015 || 10:29

+

|New || || :

 

|-

 

|-

−

|First Quarter || 18 December 2015 || 15:14

+

|First Quarter || || :

 

|-

 

|-

−

|Full || 25 December 2015 || 11:11

+

|Full || || :

 

|}

 

|}

 
 
 

==  Meteor Showers<ref name="RASC"/>==

 

==  Meteor Showers<ref name="RASC"/>==

−

Geminids - 14 December 2015

+

-

−

 

+
−

Ursids - 23 December 2015

+
 
 
 

== Other events<ref name="RASC"/> ==

 

== Other events<ref name="RASC"/> ==

 
+
 
+
 
 
 

==Night Sky==

 

==Night Sky==

−

Note that this is for Calgary, Alberta on 15 December 2015 at 22:30 MST. For this date and local time it will be similar for places in the northern hemisphere.<br>

+

Note that this is for Calgary, Alberta on 15 at 22:30 MST. For this date and local time it will be similar for places in the northern hemisphere.<br>

−

We now have the winter constellations overhead with [[Taurus]] and [[Orion]] being prominent. This brings up the unaided eye clusters of the [[Hyades]] and the [[M45|Pleiades]] over head. Both of these clusters are best either unaided eye or with binoculars. Also prominent is the [[M42|Orion Nebula]] just under the belt of Orion. All of these are worth a look.

+

We now have the winter constellations overhead with [[Taurus]] and [[Orion]] being prominent. This brings up the unaided eye clusters of the [[Hyades]] and the [[M45|Pleiades]] over head. Both of these clusters are best either unaided eye or with binoculars. Also prominent is the [[M42|Orion Nebula]] just under the belt of Orion. All of these are worth a look.

 
 
 

A little off the beaten path are three nice [[open cluster|open clusters]] [[M36]], [[M37]], and [[M38]]. These three clusters are in the constellation of [[Auriga]] which is directly north of Orion (on top of Orion for those in the Northern Hemisphere].

 

A little off the beaten path are three nice [[open cluster|open clusters]] [[M36]], [[M37]], and [[M38]]. These three clusters are in the constellation of [[Auriga]] which is directly north of Orion (on top of Orion for those in the Northern Hemisphere].

 
 
−

[[Image:sky_dec_2015.png|15 Dec 2015 Sky]]

+

[[Image:.png|15 Sky]]

 
 
 

==References==

 

==References==

 

<references/>

 

<references/>

 

[[Category:Astronomical]]

 

[[Category:Astronomical]]
---
Revision as of 19:30, 3 January 2016
Sky happenings for the month of January 2016
Note all times and dates in UTC unless otherwise specified.
Lunar Phases[1]
| Phase | Date (UTC) | Time (UTC) |
| --- | --- | --- |
| Last Quarter | 02 January 2015 | 05:30 |
| New | 10 January 2016 | 01:31 |
| First Quarter | 16 January 2016 | 23:26 |
| Full | 24 January 2016 | 01:46 |
Meteor Showers[1]
Quadrantids - 04 January 2016
Other events[1]
02 January 2016 - Earth at perihelion
Night Sky
Note that this is for Calgary, Alberta on 15 January 2016 at 22:30 MST. For this date and local time it will be similar for places in the northern hemisphere.
We now have the winter constellations overhead with Taurus and Orion being prominent. This brings up the unaided eye clusters of the Hyades and the Pleiades over head. Both of these clusters are best either unaided eye or with binoculars. Also prominent is the Orion Nebula just under the belt of Orion. All of these are worth a look. The magnificent open cluster M44 in the constellation of Cancer is also coming overhead later in the evening. If you have a telescope the fainter open cluster M67 is also in Cancer.
A little off the beaten path are three nice open clusters M36, M37, and M38. These three clusters are in the constellation of Auriga which is directly north of Orion (on top of Orion for those in the Northern Hemisphere].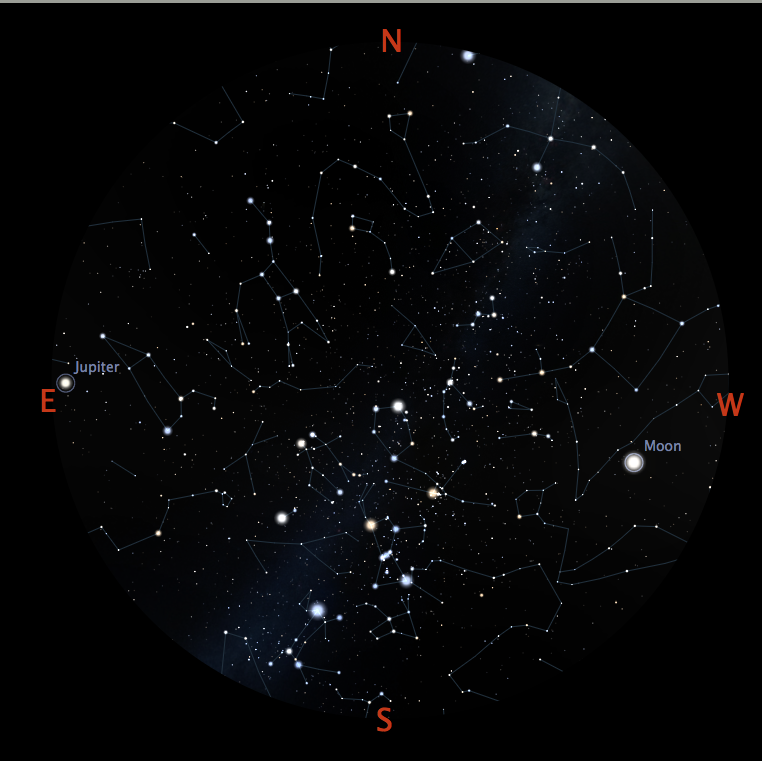 References