CityDeepSky:Current events
From CityDeepSky
(Difference between revisions)
Line 1:
Line 1:
−

Sky happenings for the month of February 2016

+

Sky happenings for the month of 2016

−

 

+
 

Note all [[Time and number conventions|times]] and dates in UTC unless otherwise specified.

 

Note all [[Time and number conventions|times]] and dates in UTC unless otherwise specified.

 
 
Line 7:
Line 7:
 

!Phase!!Date (UTC)!!Time (UTC)

 

!Phase!!Date (UTC)!!Time (UTC)

 

|-

 

|-

−

|Last Quarter || 1 February 2016 || 03:28

+

|Last Quarter || 2016 || :

 

|-

 

|-

−

|New || 8 February 2016 || 14:39

+

|New || 2016 || :

 

|-

 

|-

−

|First Quarter || 15 February 2016 || 07:46

+

|First Quarter || 15 2016 || :

 

|-

 

|-

−

|Full || 22 February 2016 || 18:20

+

|Full || 2016 || :

 
+
 
+
 

|}

 

|}

 
 
Line 19:
Line 21:
 
 
 

== Other events<ref name="RASC"/> ==

 

== Other events<ref name="RASC"/> ==

−

 

+
 
 
 

==Night Sky==

 

==Night Sky==

−

Note that this is for Calgary, Alberta on 15 February 2016 at 22:30 MST. For this date and local time it will be similar for places in the northern hemisphere.<br>

+

Note that this is for Calgary, Alberta on 15 2016 at 22:30 MST. For this date and local time it will be similar for places in the northern hemisphere.<br>

−

The magnificent open cluster [[M44]] in the constellation of [[Cancer]] is now coming overhead and you have a telescope the fainter open cluster [[M67]] is also in Cancer. [[Orion]] is now further west but it's deep sky gems are still visible. In [[Ursa Major]] a nice paring of galaxies is visible ([[M81]] and [[M82]]) which can be seen together at low power in most telescopes.

+

 

 
+

The magnificent open cluster [[M44]] in the constellation of [[Cancer]] you have a telescope the fainter open cluster [[M67]] is also in Cancer. [[Orion]] is now further west but it's deep sky gems are still visible. In [[Ursa Major]] a nice paring of galaxies is visible ([[M81]] and [[M82]]) which can be seen together at low power in most telescopes.

 
 
 

A little off the beaten path are three nice [[open cluster|open clusters]] [[M36]], [[M37]], and [[M38]]. These three clusters are in the constellation of [[Auriga]] which is directly north of Orion (on top of Orion for those in the Northern Hemisphere].

 

A little off the beaten path are three nice [[open cluster|open clusters]] [[M36]], [[M37]], and [[M38]]. These three clusters are in the constellation of [[Auriga]] which is directly north of Orion (on top of Orion for those in the Northern Hemisphere].

Line 29:
Line 32:
 

The planet Jupiter is now visible before midnight in the Western Sky.

 

The planet Jupiter is now visible before midnight in the Western Sky.

 
 
−

[[Image:sky_feb_2016.png|15 Feb 2016 Sky]]

+

[[Image:.png|15 2016 Sky]]

 
 
 

==References==

 

==References==

 

<references/>

 

<references/>

 

[[Category:Astronomical]]

 

[[Category:Astronomical]]
---
Revision as of 19:10, 4 March 2016
Sky happenings for the month of March 2016 bruary Note all times and dates in UTC unless otherwise specified.
Lunar Phases[1]
| Phase | Date (UTC) | Time (UTC) |
| --- | --- | --- |
| Last Quarter | 1March 2016 | 23:11 |
| New | 9 March 2016 | 01:54 |
| First Quarter | 15 March 2016 | 17:03 |
| Full | 23 March 2016 | 12:01 |
| Last Quarter | 31 March 2016 | 15:17 |
Meteor Showers[1]
Other events[1]
Vernal Equinox 20 March 2016 at 04:30
Night Sky
Note that this is for Calgary, Alberta on 15 March 2016 at 22:30 MST. For this date and local time it will be similar for places in the northern hemisphere. Note that daylight savings time may be in effect for part of the monty so adjust the non-UTC times appropriately.

The constellation of Leo is no becoming prominent to the east and is is a host of deep sky wonders. Along with M66, M65 and NGC3628 Leo is home to a host of galaxies, most of which will require a trip outside of town to see with a modest telescope. Still overhead the magnificent open cluster M44 in the constellation of Cancer as well as if you have a telescope the fainter open cluster M67 is also in Cancer. Orion is now further west but it's deep sky gems are still visible. In Ursa Major a nice paring of galaxies is visible (M81 and M82) which can be seen together at low power in most telescopes.
A little off the beaten path are three nice open clusters M36, M37, and M38. These three clusters are in the constellation of Auriga which is directly north of Orion (on top of Orion for those in the Northern Hemisphere].
The planet Jupiter is now visible before midnight in the Western Sky.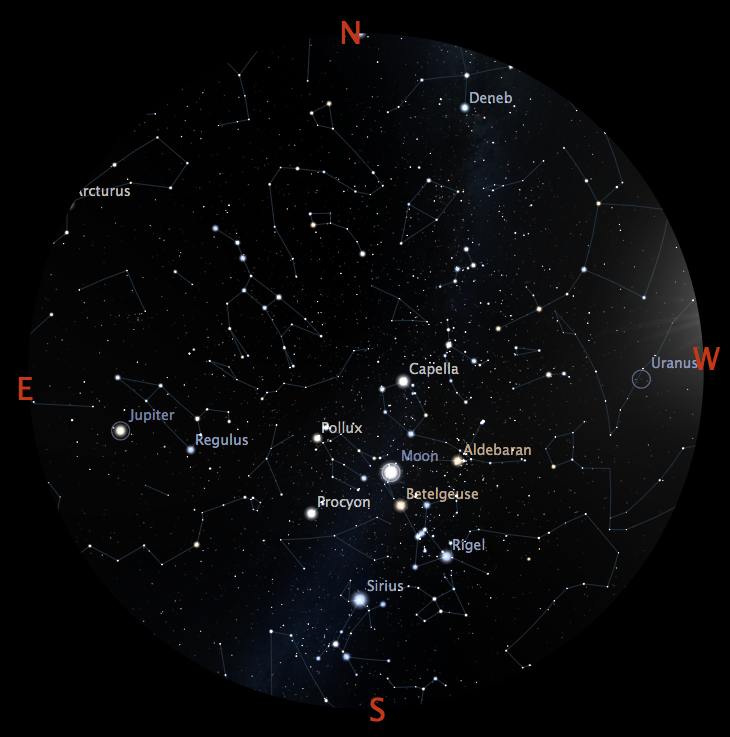 References