Antlia
From CityDeepSky
(Difference between revisions)
m

m (add wikilink to celestial sphere)

 

Line 6:
Line 6:
 

|con_hemi=Southern

 

|con_hemi=Southern

 

|con_season=spring

 

|con_season=spring

−

|con_description=This constellation is in the southern half of the celestial sphere. Antlia is bordered on the north by [[Hydra]], to the east by [[Centaurus]], the south by [[Vela]] and the west by [[Pyxis]]. It is a very dim constellation, the brightest star being [[magnitude]] 4.3. Though home to a host of [[New General Catalog | NGC]] objects, the brightest is only 9th magnitude.

+

|con_description=This constellation is in the southern half of the celestial sphere. Antlia is bordered on the north by [[Hydra]], to the east by [[Centaurus]], the south by [[Vela]] and the west by [[Pyxis]]. It is a very dim constellation, the brightest star being [[magnitude]] 4.3. Though home to a host of [[New General Catalog | NGC]] objects, the brightest is only 9th magnitude.

 
 
 

==History==

 

==History==
---
Latest revision as of 02:15, 12 August 2015
Antilia
English Name:The Air Pump

Abbreviation:Ant

Genitive:Antliae

Hemisphere:Southern

Season:spring
This constellation is in the southern half of the celestial sphere. Antlia is bordered on the north by Hydra, to the east by Centaurus, the south by Vela and the west by Pyxis. It is a very dim constellation, the brightest star being magnitude 4.3. Though home to a host of NGC objects, the brightest is only 9th magnitude.
History
This constellation was first defined by Nicolas Louis de Lacaille in maps he created in 1756[1].
References
↑ Ridpath, Ian, Star Tales Web version at www.ianridpath.com. Accessed 27 January 2009
Click on map for a larger image.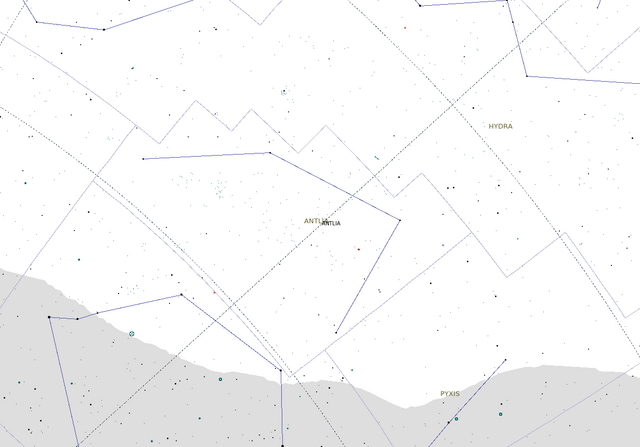 [edit] City Deepsky Project Objects